Yes, you read that right.  The two hour dress.  If I hadn't done the decorative stitching, it would have been the hour and a half dress.  I took the bold and colorful approach, but this dress could be done many different ways, with an heirloom aesthetic or done more simply or embelished in various ways.  But I am getting ahead of myself.
Today was one of those days where I came home feeling and sounding like a bear – and not the cute, cuddly kind.  I don't know why I felt so out of sorts, but my supply of patience was left wanting and I just felt like I wanted to be left alone for a while.  Yesterday, I had gotten a shipment from Annie's Catalog of some sewing notions I had been meaning to buy.  Among them was a book called "Quick and Easy Dresses to Sew" and it contained patterns for girls up to age 10.  Juliette got so excited when she saw the book and said the girl on the cover looked just like her.  We looked though it together last night and I promised her that after dinner tonight we would go pick out fabric from my stash.  She showed me what she had in mind, but they were the remnants of her old flannel receiving blankets and I told her I didn't think with the fabric as worn as it was that would be a good idea.  But I spotted some funky fish fabric in the same bin right below, and suggested we might make her a dress out of that, which appealed to her immediately, no doubt because of the fish tank she set up with her Daddy right after Christmas.  So I measured her before we got her in her jammies, and after we got her into bed I disappeared into my sewing room.  What you see below is the result of two hour's labor, a pattern called "The Simple Dress" that was fun and easy (and truly simple) to put together.  Made almost comlpetely on my Pfaff Performance 5.0, except that I don't have a narrow rolled hem foot for it, so I had to do that on my Bernina, but she performed the task flawlessly (the book cheated and had you double the flounce at the botton so as not to have to hem it, but I wasn't putting up with that!).  The Pfaff is a truly excellent and high-performance sewing machine if ever there was one.  In the slideshow below, you will see some close ups of the fish motif stitch, as well as one of the many quilt stitches, both sewn on the blue contrast band above the wide cuff at the bottom. I sewed another decorative stitch on the yellow bias tape binding around the armholes that tie into bows above the shoulder.  Just when I thought I wouldn't be able to finish it tonigh (the white and pale blue bias tapes I had clearly were not going to cut it), I found the yellow bias tape hiding in a box of supplies and it was exactly 1 inch longer than the amount I needed – how is that for serendipity?  So this entire dress was made from fabrics, notions and supplies I had on hand, which delighted the part of me that decided a few months ago that my sewing/quilting theme for this year was going to be "use what you got."  Never mind that snickering over there if you know about my recent quilt store outing with a couple of friends, that's my theme, and I'm sticking to my story.  I've been meaning to write about that here, but I've left my blog to the point of neglect recently, so I am hoping to change that soon.
In other news, you will notice I have a new visual theme to my blog.  It was time.  The red a black, while certainly getting your attention, was just a little too severe – and I was just bored with it too.  I needed something different, some more me.  Purple, in all its shades, is much more me.  I hope you like it.  I'm interested in any feedback you might me willing to share.  You will notice one big difference.  The comment links are now at the bottom of each post on the right hand side, instead of being up top under the title like they were with the old theme.
OK, so it's off to bed for me.  I hope Juliette is pleasantly surprised when she wakes up tomorrow morning and finds that papa made her a new dress while she was sleeping!  And I hope you enjoy the pictures.  The beast has definitely been calmed in the process.
The dress, she is done.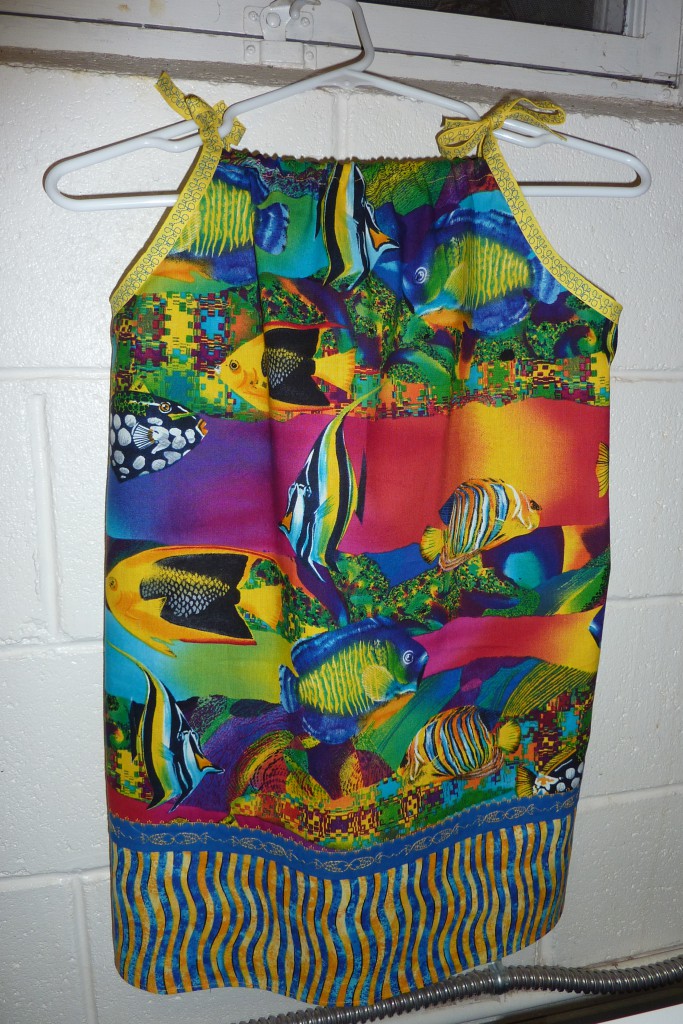 A close up of the decorative fish stitch and one of the quilting stitches used on the accent blue collar band above the cuff.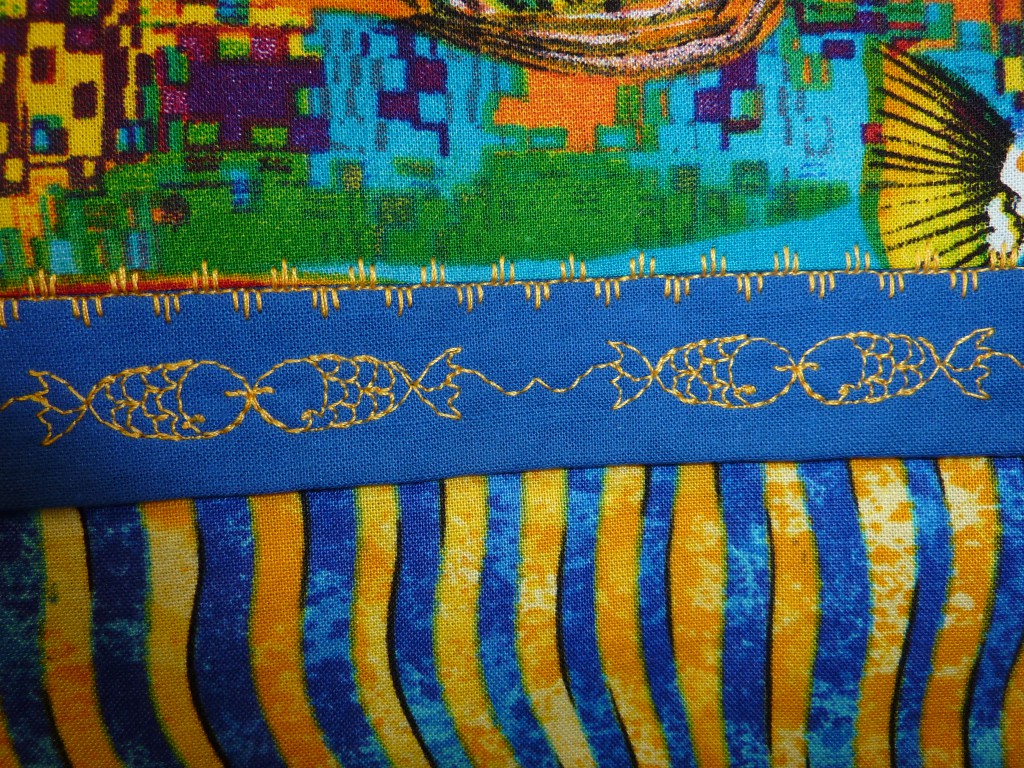 Decorative stitching in blue on the yellow bias tape binding.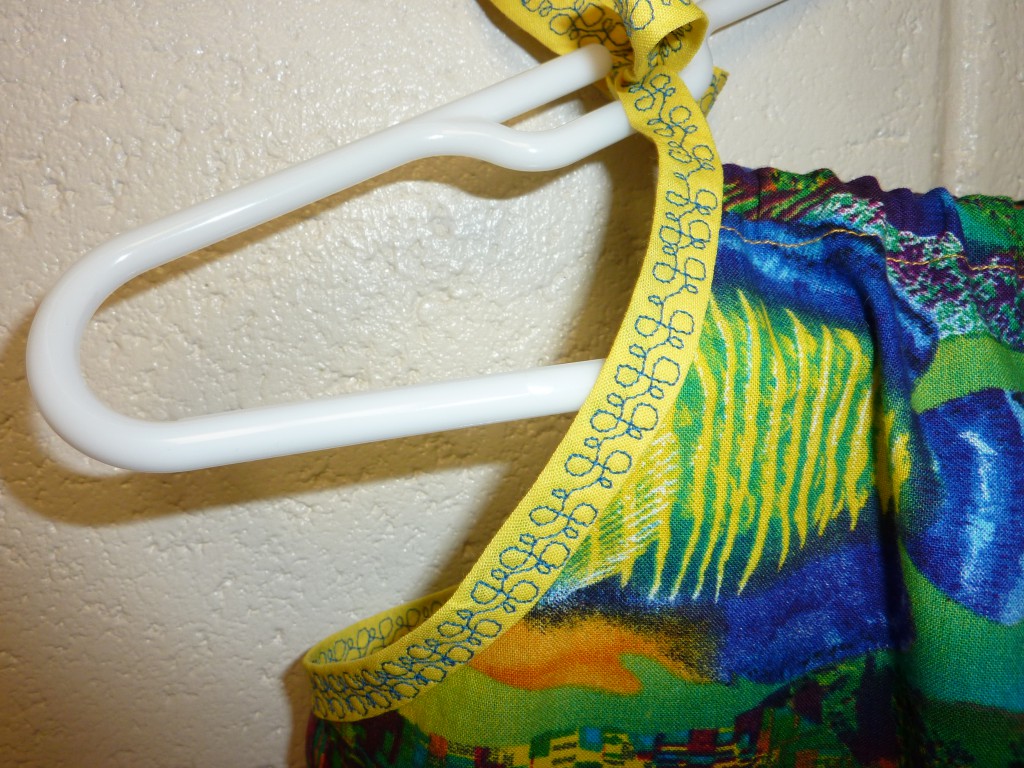 Pfancy, my Pfaff Performance 5.0.  For when you need to make a dress in two hours.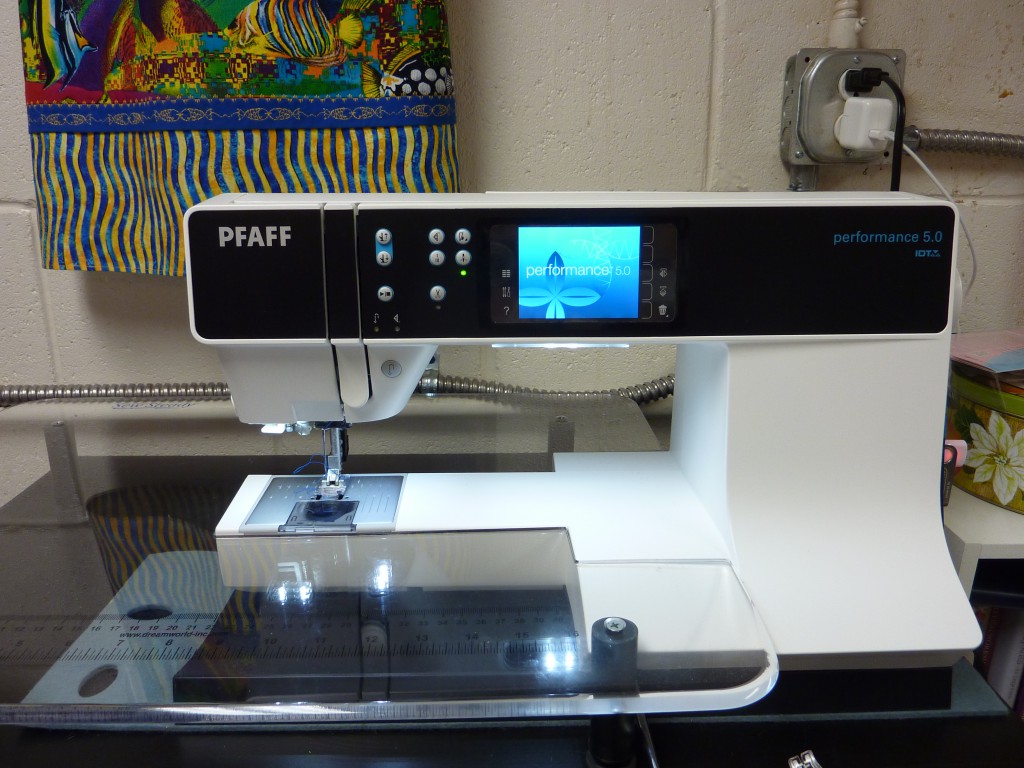 Another shot of the dress.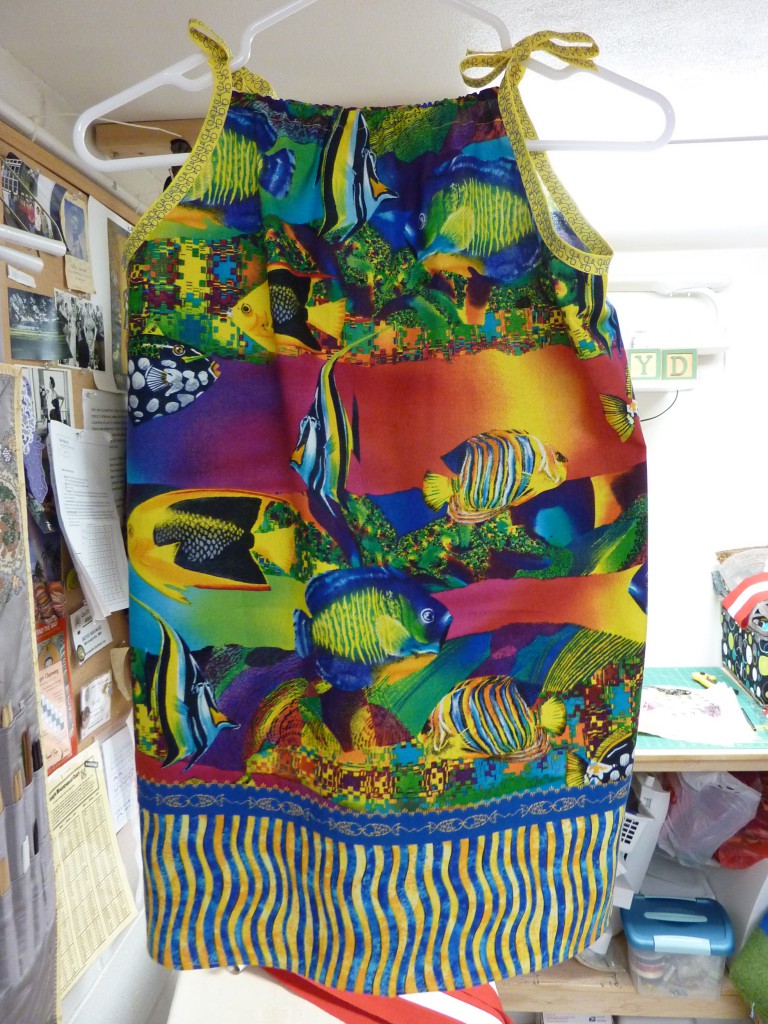 The pattern.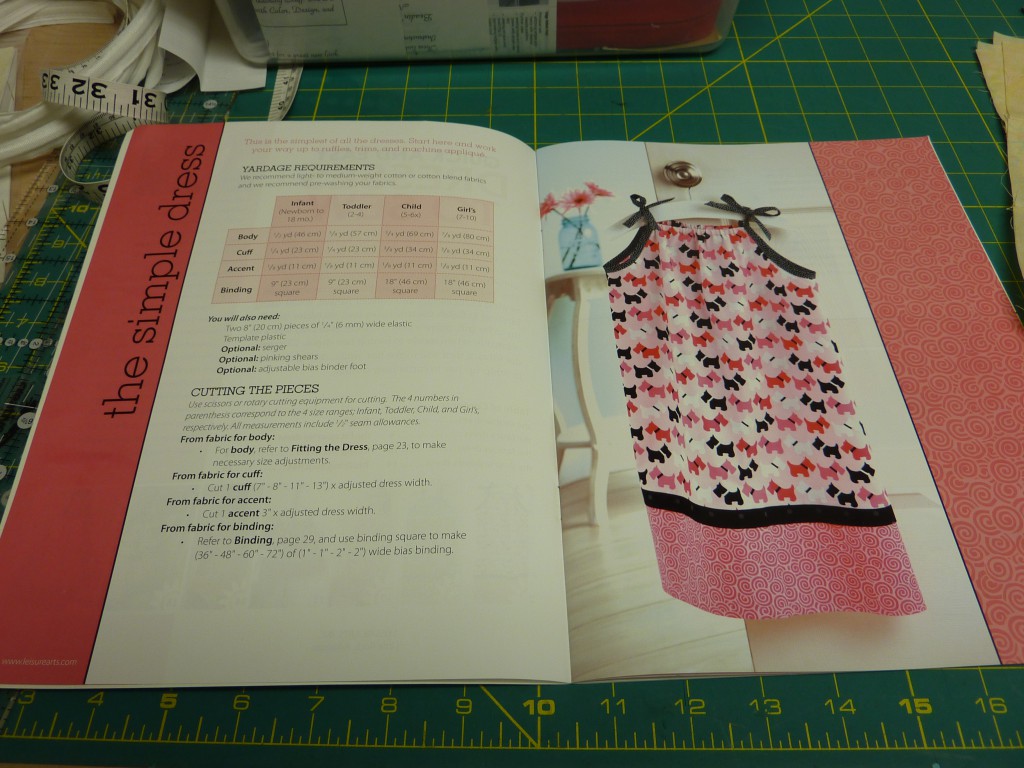 The book from whence the pattern came.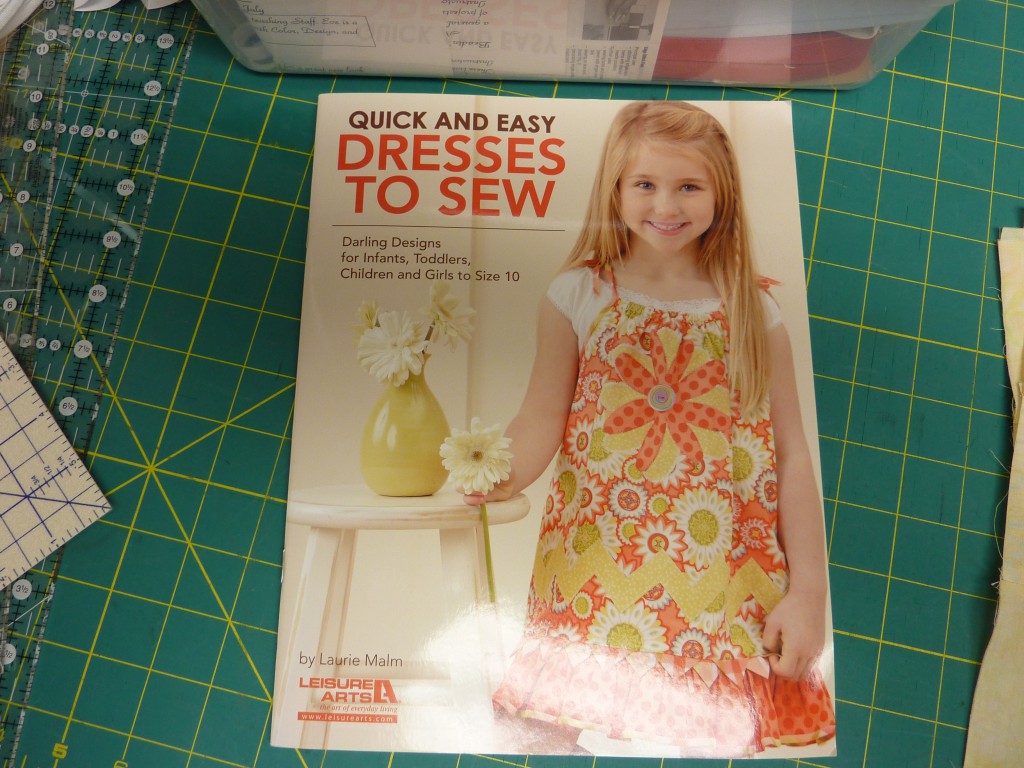 Where has this MARVELOUS tool been my entire sewing life?  It is absolutely genius!