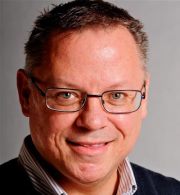 My name is Boyd Savage. I live in the Twin Cities area with my husband, Harald, and our daughter, Juliette – along with two cats, Cleo & Cletus, one dog, Miles, and four fish.
By day, I work as manager of applications for a large law firm in Minneapolis. It's all very "left brain" – analytical, detail oriented but not without its moments of creativity.
In the rest of my life, I am an craftsperson and fiber artist – among other things. I work in the medium of fabric and fiber. Most of my time, energy and enthusiasm is devoted to knitting and quilting, although the creation of complex cloth (which is also referred to as art cloth) has been a passionate interest of mine for some time. I also make contemporary quilts (what some might call art quilts) and occasionally traditional quilts. I hold a degree in tailoring and make custom garments as well, something I have been doing more and more the past few years. I also enjoy embroidery, needlepoint, and Hardangersom. Basically, if it involves needle and thread, I'm in.
Education:
Lewis M. Lively Vocational-Technical School, Tallahassee, FL – Degree in Tailoring and Alterations (emphasis in dressmaking), 1982
Augsburg College – B.A., Religion (major). History (minor) – summa cum laude, 2007