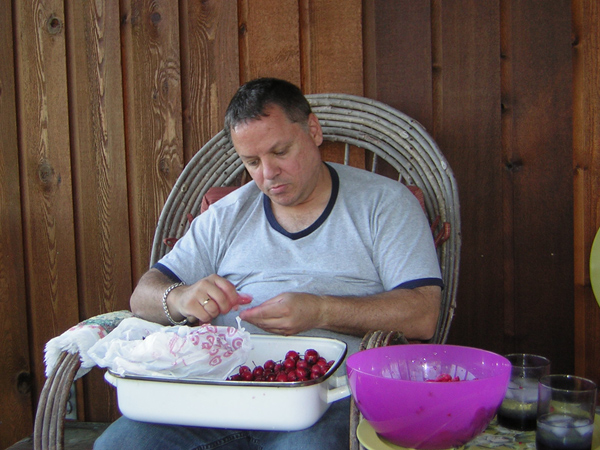 We went up to Lutsen on the North Shore for a long holiday weekend. I did exactly what I said I would do – spent a lot of time just sitting and looking out at the lake and knitting. I got my first sock done to the point where I am ready to start on the heel, so my friend who is teaching me to make socks is coming over on Saturday to show me how the rest of it goes. I added a couple of feet in length to my purple scarf and worked quite a bit into the Einstein Coat I am making for myself.
But we also made some jelly. Despite my protests that I wasn't going to make as much jelly this year because I didn't want to work that hard, that's exactly what we did. Here are the pictures to prove it. You can click on "view as slideshow" to have them play through for you. I must say, the end result was worth all the effort. The jelly turned out so good, I may enter it in next year's fair. I have to look up the rules.
We also saw a black bear (H's parents and sisters also saw a momma bear and two little cubs the night before), as well as partridge, a terribly handsome bird, and the usual deer. And I learned how to make prune-tapioca pudding from H's Aunt Joan. I've been wanting to learn how to make that for almost two years now and I finally think I can do it after she graciously showed me how she does it. I love the stuff. I know it sounds maybe weird or unappetizing to some, but it's delicious. And Joan made blueberry pancakes and invited us for breakfast on Monday morning. The pancakes were delicious and while I was there, I browsed her cookbook collection and found two "must have" cookbooks from The Farm Journal. I found them on-line last night from used booksellers and they are already on their way to me! We've got some good country farm cooking coming our way soon! And just in time for the cooler weather, too. Perfect!