It seems only fitting to give those who are interested a peek into my recent knitting obsession. This is the first pair of socks I am making, a result of careful teaching from a friend in St. Paul who makes oodles of socks.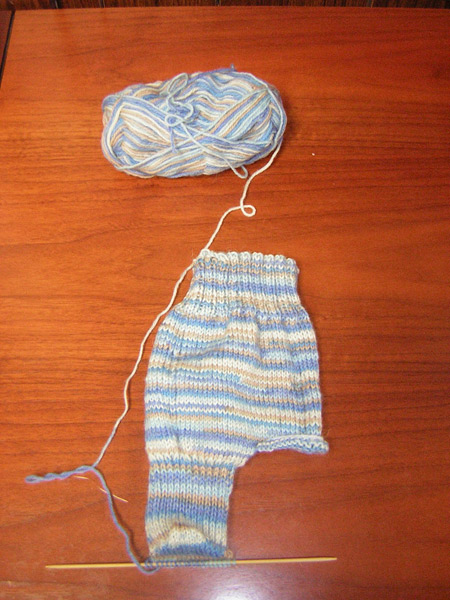 Here is sock 1. I've done the ribbing, body, heel flap, and I've turned the heel. I've yet to do the gusset and rest of the sock. That's why it looks unfinished. As soon as I get sock 2 to the same place, my friend is coming over for my next sock lesson.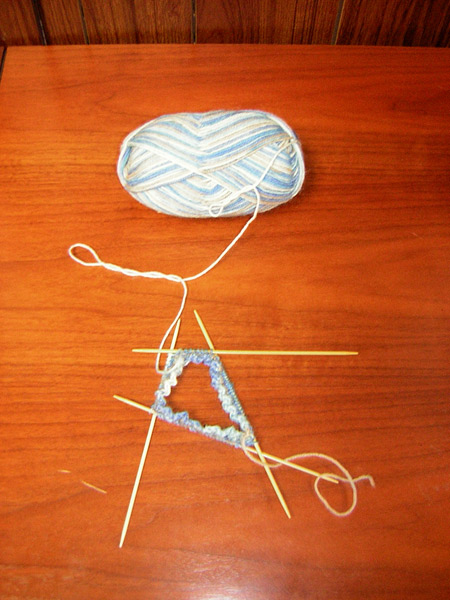 And here is sock 2. Having been adequately warned about the dangers of "second sock syndrome" – where you finish the first sock and not having started the second sock, never do – and so I've cast on for this sock as well and am getting the ribbing done. Kind of putzy, but it's a nice change to work at slower pace and on a smaller scale.
You know, I've always been so impressed when I see someone working on some knitting that has four or five needles all going at the same time. It always looked so awesome and so intimidating. So it gives me no small thrill to be able to see those same needles in my own hands at night. What can I say – I thrill easily over certain things – yarn being among them.
I'll post pictures of my Einstein Coat once it looks like something other than a very long and very wide scarf. I'm almost ready to begin the front panels.