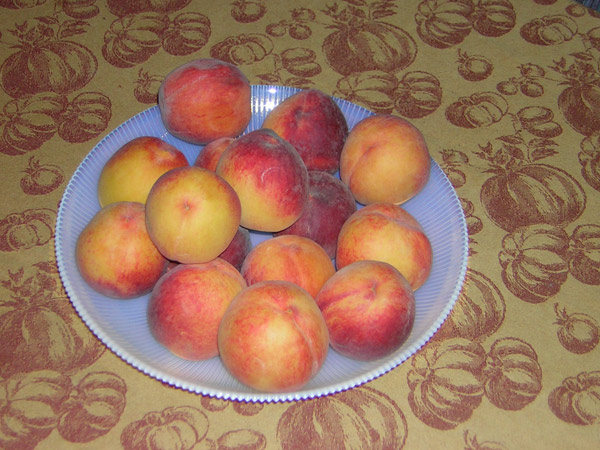 Here is what was left after we got done eating and freezing peaches last night.
Now being the good southern boy I am, you must know that I love a truly good peach more than just about anything else in the world. Alas, there is a dearth of such fruit to be found in Minnesota. It's one of the few unfortunate things about living here. Normally, I find some relief in good Colorado peaches that I get at the local farmer's market. But even those have been a disappoinment so far this year. So it was no small joy when Harald called me from his cell phone yesterday to tell me he saw a roadside stand with a sign advertising a truckload of Michigan tree-ripe peaches. With some skepticism, I told him we would drive out there after work to check it out. After arriving, I told the saleslady I didn't want any mealy peaches with no flavor and she laughed and said "I wouldn't do that to you!" as she reached in the box and grabbed a peach and sliced off a generous portion. There is no better sales tactic than getting customers to try the merchandise first, especially when it comes to food.
We bought a case and when we got home promptly ate more good peaches than I've had over the entire last decade. I decided that freezing some of the peaches would be a good idea, since in the dead of winter we can pull out some delicious fruit when no decent peach is to be found. These weren't as large as those splendid South Carolina peaches I remember from my childhood, but they were the perfect marriage of tart and sweet and they were perfectly ripe all the way to the core. I thought you would enjoy seeing these splendid specimens, Red Haven peaches, from Eau Claire, Michigan.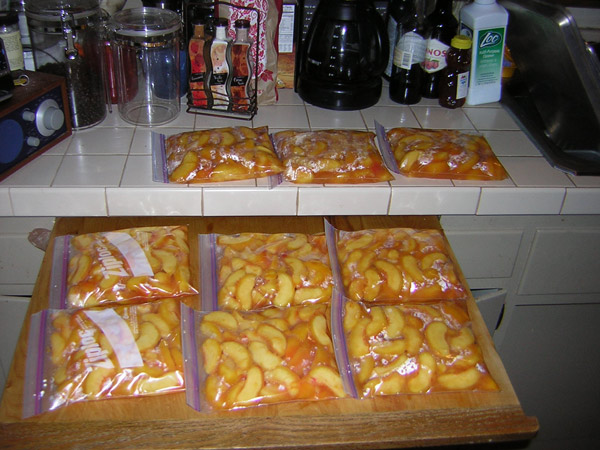 Our prepped peaches ready for the freezer.