We've been furiously working with our front and back gardens the past few weeks – one of the primary reasons you haven't heard much from me. Sometimes we don't come in from working until it gets dark after 9:00 and we still haven't eaten dinner yet. The rewards are paying off, primarily in the form of backhanded compliments from neighbors to "stop making your yard look so nice – you're making the rest of us look bad!" The neighbors on either side, of course, have fantastic gardens, it's just the rest of them who don't spend much time in the yard. Anyway, we have planted so far:
Asters (three exotic varieties with funny petals)
Penstemon "Prairie Dusk" – brilliant purple color!
Oriental Poppies – I dearly love them
Foxglove – how can anyone resist it?
Hollyhock "Zebrina" = althaea sylvestris, a/k/a Mallow or French Hollyhock – one my very, very faves – pics to come!
Smart Dwarf German Iris
Siberian Iris
Lobelia
Evening Primrose – absolutely irresistable gossamer beauty in the palest pink!
Stella de Oro lily
Ruby Stella lily
Asiatic lily in vivid orange
Geum 'Borisii' – another fantastic orange flower – why have I never heard of this before?
"Tahiti Orange" snapdragons
Phlox "David" in pure white
Campanula, also in white
A variety of campanula called "Purple Bellflower" in the darkest purple you've ever seen
Numerous impatiens in white, coral and magenta
Zinnias
Numerous varieties of hostas – I can't even begin to remember them all!
Astilbe
Wild Indigo
Dwarf Chinese Delphinium 'Blue Butterfly' (Delphinium grandiflorum) – which I'm anxious to see bloom!
Candle Delphinium 'Galahad' (Delphinium elatum) in bothg blue and white
2 Potentilla fruticosa "Abbotswood" shrubs for under the bedroom window
Pots of red geranium, white gerbera daisies and dracaena
A few pots of petunias
A hanging basket of bougainvillea spectabilis (the common purple one – I can't find the red one locally)
And the all-time, hands-down favorite, right now anyways, is my lovely, fragrant heliotrope (Heliotropium arborescens). Oh, how I love that smell in the garden at night as the sun is setting and the breeze is wafting its vanilla fragrance around the yard.
Is that all of it? And, of course, the roses keep blooming, the tomatoes and peppers are loving the warm weather, and the basil and rosemary are gloriously out of control.
Here are some images to feast your eyes upon: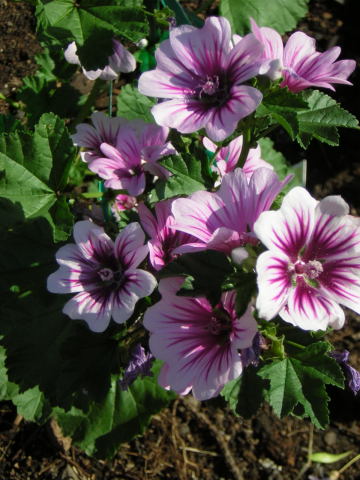 Hollyhock "Zebrina" – althaea sylvestris, Mallow or French Hollyhock

The dark purple bellflower plant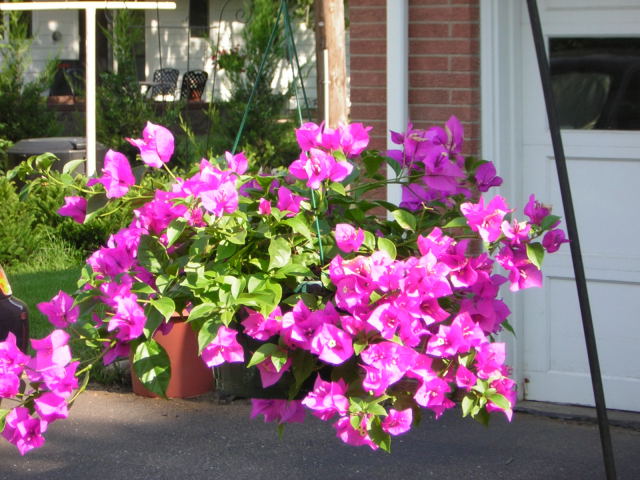 Bougainvillea spectabilis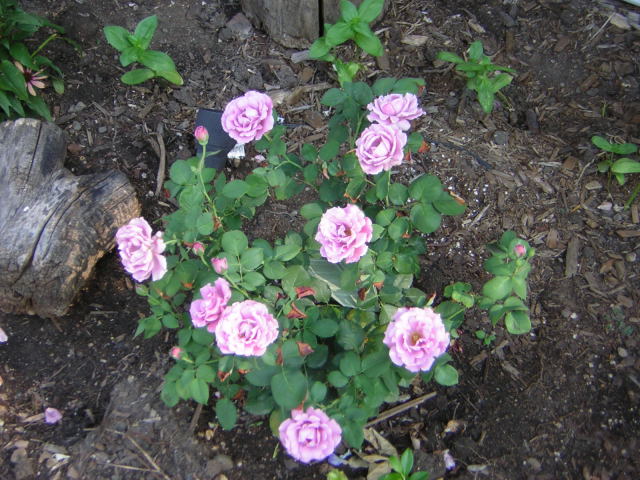 My precious angel face roses in bloom – I wish you could smell them!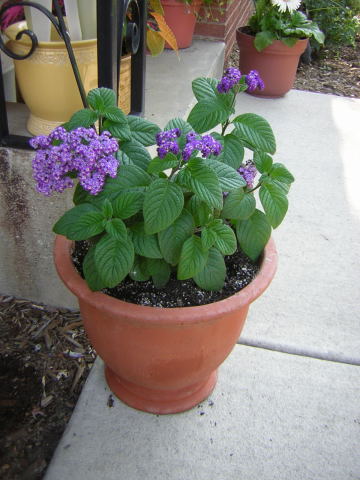 Heliotrope (Heliotropium arborescens) – we need smell-o-vision!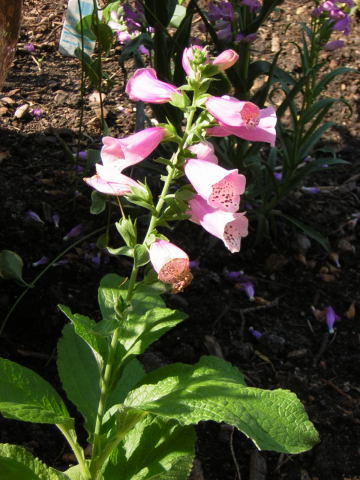 Foxglove – an old fashioned favorite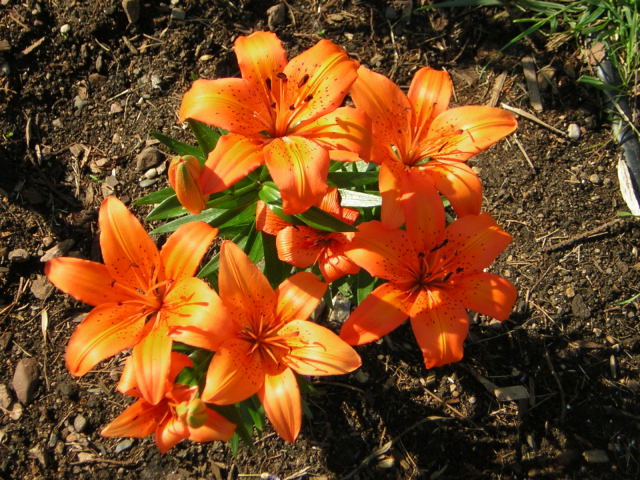 A brilliant orange Asiatic lily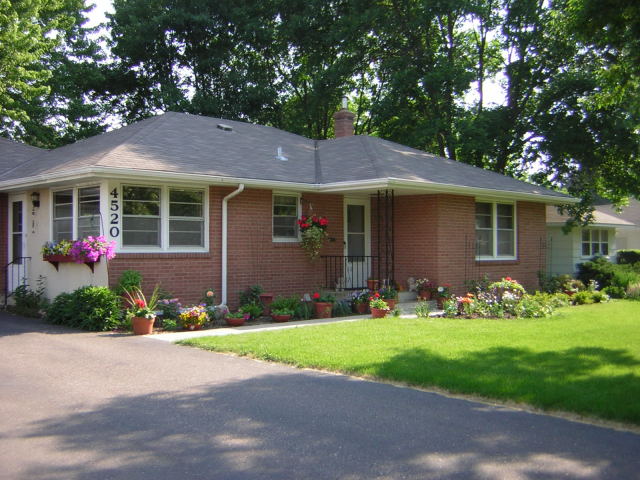 For those of you who have only seen our house in fall or winter!